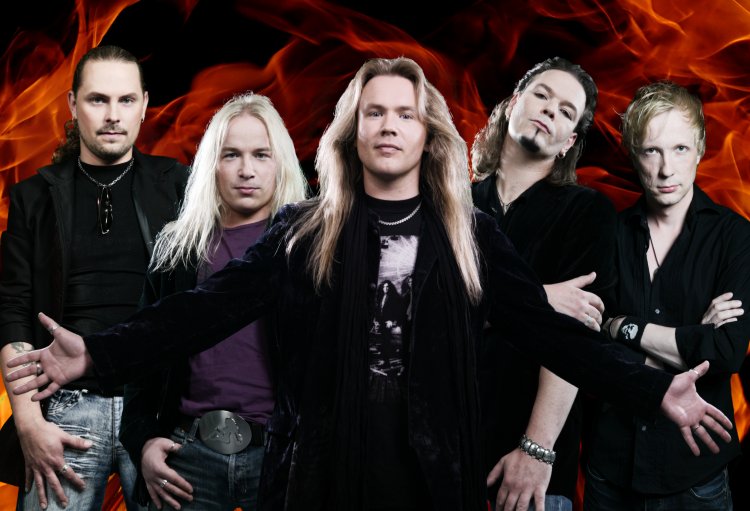 Members:
Pekka Ansio Heino (vocals)
Tomppa Nikulainen (keyboards)
Emppu Vuorinen (guitar)
Jason Flinck (bass and backing vocals)
Kalle Tornianen (drums)
In 2001 keyboardist Tomppa Nikulainen, Pekka's bandmate in Cashmir, composed a riff that later became the main riff in "One Single Breath," and Pekka wrote a melody and lyrics to go aloong with it. They were joined by Jason Flinck, who had met Pekka when they were in the army together, and Nightwish guitarist Emppu Vuorinen. The band's name is the English translation of the name of Finnish tennis player Veli Paloheimo. In 2006 the band released their debut album False Metal. The album title was taken from Manowar's slogan "Death to False Metal." In 2007 Brother Firetribe recorded "I Am Rock" and it was used as the theme music for the Finnish television show Pelkkää lihaa. In 2008 they released their second album Heart Full of Fire. Nightwish vocalist Anette Olzon duets with Pekka on the title track. In early 2009 Brother Firetribe went on their first European tour, as the opening act for the Swedish industrial metal band Pain.
Albums

False Metal
Label: Spinefarm
Release date: 2006
1. Break Out
2. Valerie
3. I'm On Fire
4. Love Goes Down
5. Devil's Daughter
6. Midnite Queen
7. One Single Breath
8. Lover Tonite
9. Spanish Eyes
10. Kill City Kid

Heart Full of Fire
Labels: Spinefarm, Universal
Release date: 2008
1. Who Will You Run To Now?
2. Wildest Dreams
3. Runaways
4. Game They Call Love
5. Play It From the Heart
6. Heart Full of Fire
7. Heard It On My Radio
8. Going Out with a Bang
9. Out of My Head
10. Chasing the Angels
11. I Am Rock
12. Two Hearts *
13. Heart Full of Fire (JS16 Remix) *
* Japanese version

Break Out (reissue of False Metal)
Labels: Spinefarm, Universal
Release date: 2008
1. Break Out
2. Valerie
3. I'm On Fire
4. Love Goes Down
5. Devil's Daughter
6. Midnite Queen
7. One Single Breath
8. Lover Tonite
9. Spanish Eyes
10. Kill City Kid
11. Mighty Wings
12. Hungry for Heaven *
13. Love Goes Down (acoustic) *
14. One Single Breath (video)
* UK version

Live at Apollo
Label: Spinefarm
Release date: 2010
1. Who Will You Run To Now
2. Runaways
3. Wildest Dreams
4. Midnite Queen
5. Game They Call Love
6. One Single Breath
7. Play It From the Heart
8. Chasing the Angels
9. Going Out with a Bang
10. Break Out
11. I'm On Fire
12. Heart Full of Fire
13. Valerie
14. I Am Rock
Singles

One Single Breath
Label: Spinefarm
Release date: 2006
1. One Single Breath (edit)
2. Mighty Wings

I'm On Fire
Label: Spinefarm
Release date: 2006
1. I'm On Fire (radio edit)
2. Spanish Eyes
3. I'm On Fire

I Am Rock
Label: Spinefarm
Release date: 2007
1. I Am Rock
2. Love Goes Down (acoustic)
3. One Single Breath (video)

Runaways
Label: Spinefarm
Release date: 2008
1. Runaways
2. Chasing the Angels

Heart Full of Fire...And Then Some
Label: Spinefarm
Release date: 2008
1. Heart Full of Fire
2. Heart Full of Fire (JS16 Remix)
3. Two Hearts
4. Hungry for Heaven
DVDs

Live at Apollo
Label: Spinefarm
Release date: 2010
1. Who Will You Run To Now
2. Runaways
3. Wildest Dreams
4. Midnite Queen
5. Game They Call Love
6. One Single Breath
7. Play It From the Heart
8. Chasing the Angels
9. Going Out with a Bang
10. Break Out
11. I'm On Fire
12. Heart Full of Fire
13. Valerie
14. I Am Rock