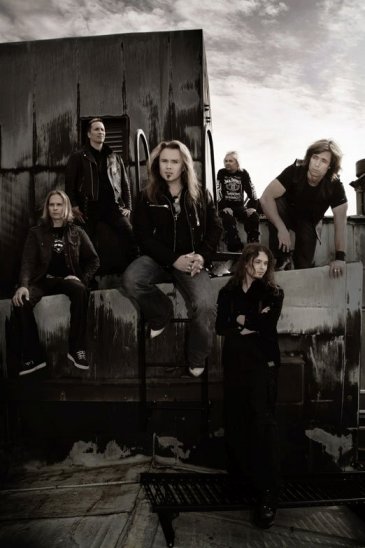 Members:
Pekka Heino (vocals)
Tuomas Heikkinen (guitar)
Torsti Spoof (guitar)
Marko Niskala (keyboards)
Valtteri Revonkorpi (drums)
Sami Norrbacka (bass)
Former member:
Pekka Lampinen (bass)
Pekka Heino met Tuomas Heikkinen in Helsinki through a mutual friend around 2003-2004, after Tuomas had heard Pekka singing a Bon Jovi song on a recording from a cell phone. Tuomas had some demos that he had recorded with Kimmo Blom from Urban Tale, and he asked Pekka to give a couple of the songs a try. In 2005 Leverage released a promotional CD, and in 2006 they released their first album, Tides, in Finland and Japan. In 2007 the band released the Follow Down That River EP. In early 2008 Leverage released their second album, Blind Fire, and Tides was reissued on Frontiers Records. In late 2009 the band released their third album, Circus Colossus, and shortly afterward Sami Norrbacka replaced Pekka Lampinen on bass.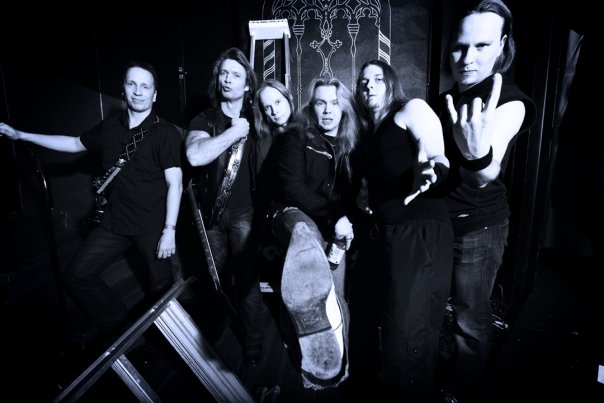 Albums

Tides
Labels: Elements Music, Avalon/Marquee, Frontiers
Release dates: 2006, 2008 (reissue)
1. Fifteen Years
2. Superstition
3. Horizon
4. Dreamworld
5. Follow Down That River
6. Stranger
7. Sails
8. Marching to War
9. Twilight Symphony
10. Gone
11. Waterfall *
12. Land of Flames *
* Japanese version and Frontiers reissue

Blind Fire
Labels: Playground Music, Frontiers, Avalon/Marquee
Release date: 2008
1. Shadow in the Rain
2. King of the Night
3. Stormchild
4. Sentenced
5. Hellhorn
6. Mister Universe
7. Don't Touch the Sun
8. Run Down the Hill
9. Heart of Darkness
10. Learn to Live
11. Yesterdays *
12. Rockethead *
* Japanese version

Circus Colossus
Labels: Spinefarm, Avalon/Marquee
Release date: 2009
1. Rise
2. Wolf and the Moon
3. Movie Gods
4. Worldbeater
5. Rider of Storm
6. Legions of Invisible
7. Revelation
8. Don't Keep Me Waiting
9. Prisoners
10. Broken Wings
11. Mean and Evil *
12. Walk On Home *
* Japanese version
Singles

Follow Down That River
Label: Elements Music
Release date: 2007
1. Follow Down That River
2. Waterfall
3. Land of Flames
4. Stranger (live)